Cylinder head definition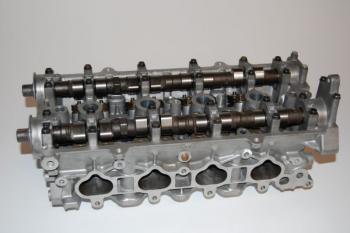 Cylinder head, cylinder cap or engine block cover is the top of an internal combustion engine that allows the combustion chamber to close. It constitutes the upper closing of the motor block and in motors on it the valves are seated, having holes for this purpose. The cylinder head has a double wall to allow circulation of the coolant. If the internal combustion engine is ignited ( Otto engine), it has threaded holes where the spark plugs are located. In case of being ignition by compression (Diesel engine) in its place it takes the holes for the injectors. The cylinder head is made of cast iron or light alloy and is attached to the engine block using screws and a gasket: the cylinder head gasket.
The cylinder head is fixed by screws or stud bolts on the upper plane of the block and serves as a sealed cover for the cylinders, since it houses all or part of the combustion chamber, except in the case that it is formed in the piston head .
The valves are installed, among other elements, in the 4-stroke engines, with the mechanisms to actuate them; Ignition and injection elements, intake and exhaust manifolds, etc. In the cylinder head, the coolant chambers are also machined.
They are usually made of aluminum alloy, material with a low specific gravity and a good thermal conductivity, that allows to evacuate quickly the heat. 2-stroke cylinder heads (small-displacement motorcycles) are simpler, since they do not carry distribution, and air-cooled moltessón.
To assure a perfect tightness between the cylinder head and the cylinder block and bearing in mind that it has to withstand great pressures and temperatures, a joint, called a cylinder head gasket, made of synthetic fibers in place of asbestos, Tannegatiu for health.
The cylinder head is the nomenclature used to refer to part of a mechanism. In an internal combustion engine cylinder head and the top of the closing cap and the cylinder block consists of a cutter so perfectly fit the metal block platform to provide resistance to explosions. Currently the head of the engine is the top of the combustion chamber and where the sails and the intake valves and exhaust head are located. Between and the block is the head gasket in addition to facilitating engine maintenance, the cylinder head Cylinder is the key to proper operation, to determine the shape of the combustion chamber, the intake and exhaust passage, the operating gases of the valve and its control. You can develop totally different engine performance by just changing the spindle.
It is usually made from the same rest of the block material, cast iron, or high-performance motors, aluminum alloys. Like the rest of the block contains separate pipelines for lubricant and cooling water.
Last review: November 28, 2016
Back